Hey y'all! Can you believe the summer is nearly halfway over? It seems like it just started and now here we are in the middle of July! Crazy, right?
As much as I love fall and look forward to it's arrival every year, I still want to soak up the last bits of summer while it lasts. In the beginning of the summer, I like to set out all my patriotic decor. I love to use vintage flags and other red, white and blue goodies. But toward the end of summer, I take down all the patriotic stuff and do something a little different. I love using beach-y and/or nautical elements in all my summer decor, but this year I also wanted to capitalize on one of my favorite summer symbols: pineapples!
I love pineapples for a lot of reasons, not the least of which being that they're delicious. But I especially love to use pineapples in decor because of their symbolism. A pineapple is a traditional expression of "welcome" throughout the world. It symbolizes all the things we love and want our home to represent: warmth, welcome, friendship and hospitality. It's no wonder that pineapples are common symbols in all kinds of home decor!
Driftwood Pineapple Sign
This post contains affiliate links. We are a participant in the Amazon Services LLC Associates Program, an affiliate advertising program designed to provide a means for us to earn fees by linking to

Amazon.com

and affiliated sites. You can read my full disclosure policy here.
Today I want to share with you an easy and inexpensive project: a DIY driftwood pineapple welcome sign! I bought most of my supplies at Hobby Lobby and it cost me less than $20.
What You'll Need:
hot glue gun and glue
twine or ribbon
What You'll Do:
First, stain your pine wood panel with the gray stain and let it dry. Give it at least an hour.
Next, decide where you want the bottom of your pineapple to fall (make sure you leave plenty of room for your "welcome" at the bottom of the panel) and start by hot gluing an oval driftwood chip horizontally on the panel. Then hot glue three more oval chips vertically, overlapping the bottom of them on your horizontal chip.
Continue hot gluing your oval chips one row on top of the other until your chips look like a pineapple. The most chips you'll use in a single row is five.
Next, hot glue three rectangle chips at the top of your pineapple, leaving a bit of a gap between each. Glue two more rectangles on top of the three, covering the gaps and slightly lower than the three below it. Glue the last rectangle in the gap on top of the two beneath it, slightly lower. It should fit nicely in the gap of the top of the pineapple.
Your pineapple is complete! Now, using a pencil or a piece of chalk, write out "Welcome" on the bottom of the panel. Once you have it looking like you want it, trace your word with hot glue, one letter at a time.
Using your twine or ribbon, glue it down in the shape of your traced word. Go slow: the glue will dry quickly and molding the twine into letters can take some dexterity.
Once you've glued your twine to create "Welcome," let it dry and you're done!
Don't you just love it? I love the grey tone of the wood sign and contrast of the driftwood. I love how it turned out! I'll be displaying my beach-y pineapple sign on my buffet in my entryway. I think it's the perfect way to welcome visitors to my home!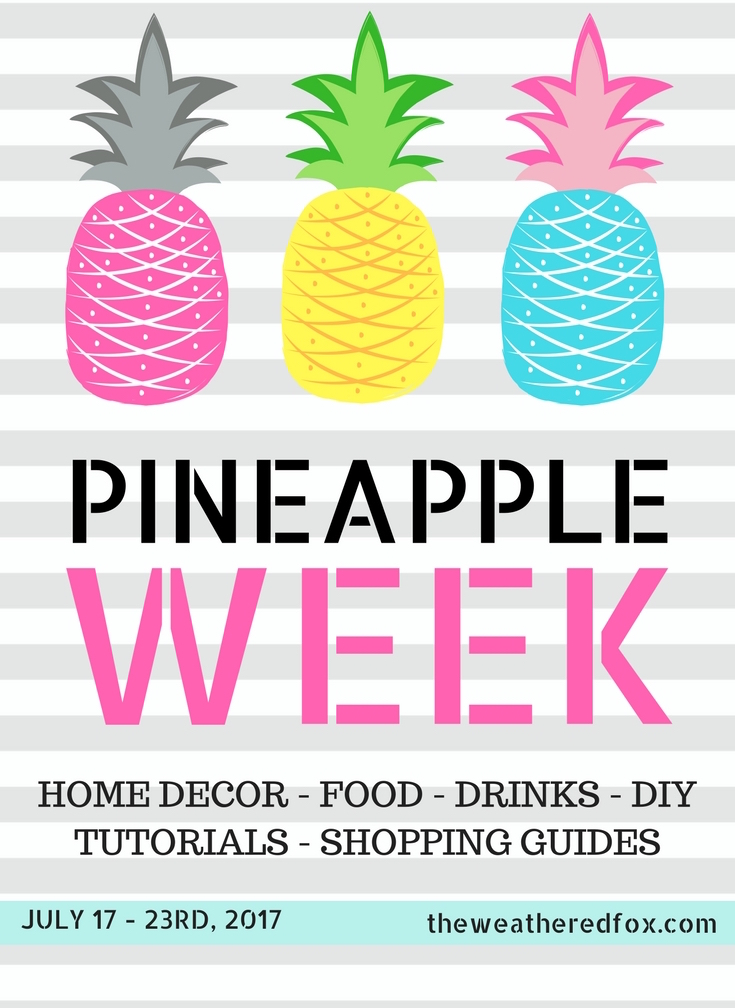 Do you want to see more great pineapple ideas? My pineapple project was part of a blog hop hosted by my friend Crystal at The Weathered Fox. She is kicking off Pineapple Week over at her blog this week so be sure to check in throughout the week for more pineapple ideas!
Check out all the other Pineapple tutorials here:

Craftivity Designs | Pineapple Tablescape and Printable Menu
The Vanderveen House | Pineapple Pillow Cover
Upright and Caffeinated | Stenciled Pineapple Milk Can Planter
Our Home Made Easy | Summer Pineapple Printable
Woodshop Diaries | DIY Carved Wooden Pineapple Spoon
Hey Lets Make Stuff | Pineapple Candy Pouch Card
Happiness is Homemade | DIY Pineapple Candle
Mahles Market | Free Pineapple Printables
Sustain My Craft Habit | DIY Pineapple Succulent Mason Jar Planter
Casa Watkins Living | Pineapple Inspired Wine Charms
Our Crafty Mom | Pineapple Flour Sack Tea Towels
Sense and Serendipity | DIY Driftwood Pineapple Welcome Sign
Not Just Paper and Paint | Pineapple Casserole Recipe
PMQ for Two | Pineapple Wine Charms
Wife in Progress Blog | Homemade Pineapple Sugar Scrub